Adult action in Tallinn, Estonia
Sex-travel got this excellent review from a reader that just returned from a nice adult day of sex-travel in Tallinn, Estonia.
Thank you Tom for your review:
————————————
In Tallinn there are couple of great strip clubs and "massage places" where you can enjoy yourself if you are on a sex-travel and are after some adult fun.
But if you really  want some value for your money I can recommend seeing a private escort, that are quite cheep in that town.
I had a lovely 1 hour meeting with a girl called Isis for just 65 euro(additional hour costs 50 euro and if you like to spend the entire night with her the cost is only 300 euro), unlimited cum included.
She is 29 years old, 178cm tall and weights 70kg, black hair, brown eyes and B size breasts with a nice shaved pussy.
She offers classic & erotic massage, masturbation, kissing with tongue, different positions, 69, oral sex (taking and giving), cumshot on body allowed, extraball, foot fetish, domination, role-playing games, golden shower etc. anal sex for extra charge(20 euro).
She had a nice apartment in a discreet area just 10 minutes walk from the harbor or city center, was very easy to find.
About the meeting:
She welcomed me at the door waring a really sexy outfit and with a smile.
She asked if I wanted to freshen up first and showed me to the shower/jacuzzi(next time I will do some warming up with her at the jacuzzi 🙂 ).
After that off to bed and we started kissing and feeling each other, on with the condom(no owo here) and she started giving me the most wonderful blowjob I have ever had with a condom, this girl really knew what she was doing. Playing with the balls, sucking, licking and at the same time I started fingering her pussy, hearing her moon just made me hornier so I lubricated up another finger and pushing it in to here ass. Started finger pulling here faster and faster with one finger in the ass and two in her pussy.
She was really giving me a great time made me come very fast……
Then clean up and back in bed, talked a lite bit(truly an gfe experience) before she started giving me a sensual massage all over body, started stroking and I was ready for action again.
On with the condom and she started sucking again… I had to stop here pretty quickly or I would come really fast again.
Time for some doggy style, took here from behind and she was really tight and had a great view as the wardrobe doors had mirrors.
Position change, time for some riding and she was doing this really excellent too, this girl must work out a lot!
I told here to step off and go down on here knees in front of me on the floor now, off with the condom and time to paint here boobs in my cum, she seemed to truly enjoy this too and played with the cum on here boobs.
Now I had no more power in me, took a quick shower again, got dressed and said goodbye.
No time stress or anything like that.
I really give this girl 10 points out of 10 possible for the date.
Well recommended 🙂
She was the height of the sex-travel trip.
If you want to arrange a meeting next time you are in Tallinn with her then just either contact here:
http://www.cityoflove.com/detailcontact.aspx?lang=en-US&dID=31843&dStaffID=0&Digest=0HYWsWiEXnP0x7SoifkGcQ&c=2693
Or call here on +372 560 94 560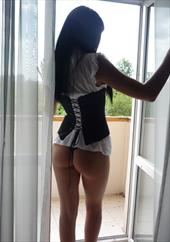 Tags: blowjob, body to body, erotic, Estonia, Gfe, incall, jacuzzi, oral, private, shower, tallinn